Kiribati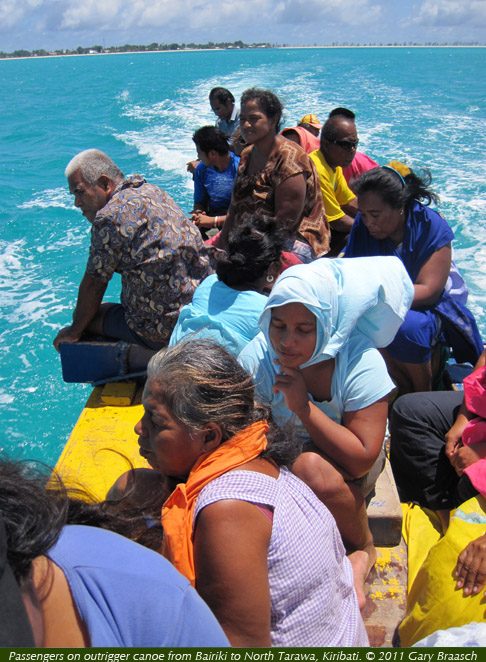 With various expressions of concern, boredom and nonchalance, some of the 30 passengers crowd on the rear deck of an open outrigger boat from Bairiki, South Tarawa to Abaokoro, North Tarawa, Kiribati. The transition from urban, crowded and vehicle-crazed South Tarawa across 18 km of lagoon to the villages of the north part of the atoll is like going back in time -- for many on the boat, going home. Scenes of life at Nooto village and at a Catholic school on North Tarawa are the subject of this portfolio by Gary Braasch. For more information on Kiribati environmental issues, please see World View of Global Warming.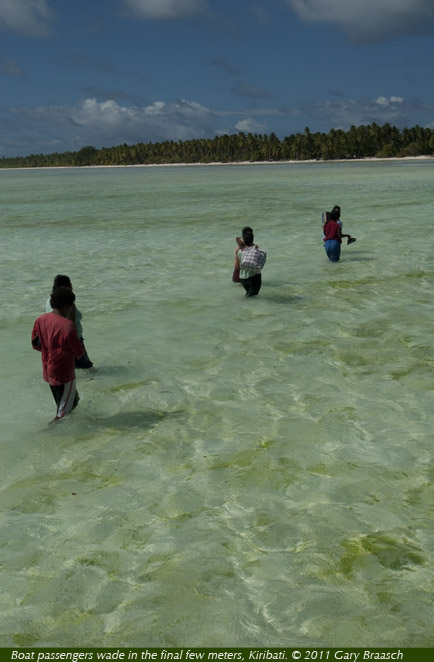 Low tide grounded the outrigger boat from South Tarawa just offshore of Abaokoro, North Tarawa, and passengers waded in the final 50 meters through the clear water of the lagoon. North Tarawa is a string of small coral islets about 40 km long and often less than a kilometer in width. For coverage of South Tarawa and the threat of sea level rise and environmental pollution, please see World View of Global Warming.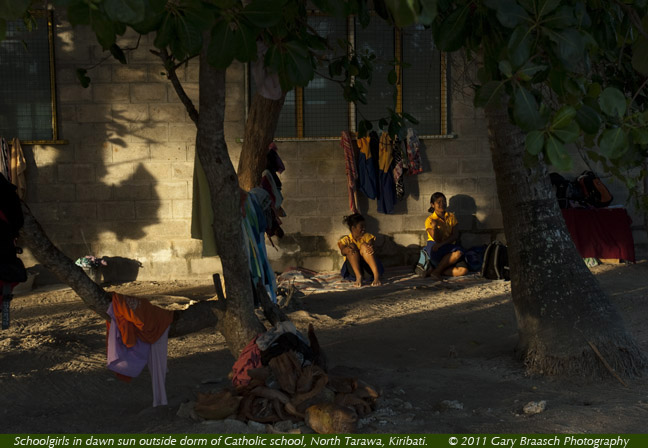 In the warm morning light outside the dorm, two girls await classes -- and for laundry to dry -- at Immaculate Heart College, a Catholic school at Taborio, North Tarawa. It was originally established as the first girl's secondary school in Kiribati in 1955. Boys have been admitted since the early 1960s.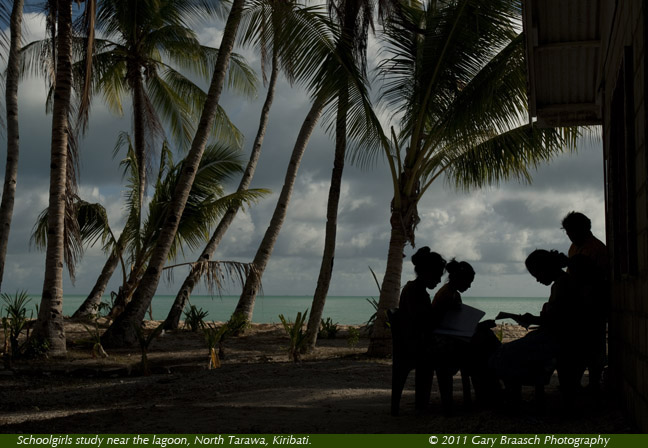 After classes at the Immaculate Heart College Catholic school at Taborio, North Tarawa, girls study outside the classrooms, under coconut palms along the lagoon. While he was visiting, Gary Braasch taught part of two classes about climate change and donated a copy of his book How We Know What We Know About Our Changing Climate.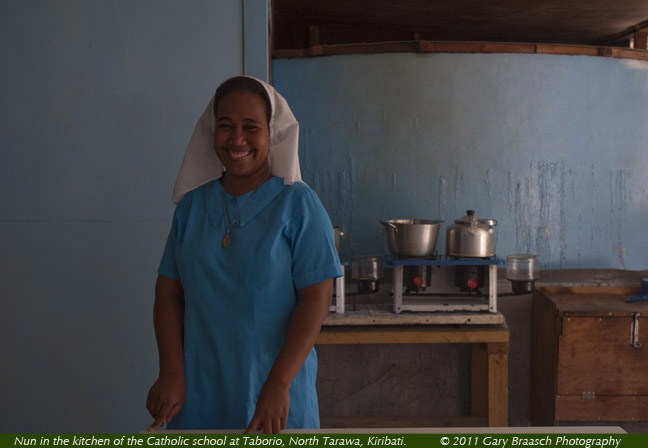 Sister Atinta Kaareta in the kitchen of the Our Lady of the Sacred Heart Catholic convent at Taborio, North Tarawa.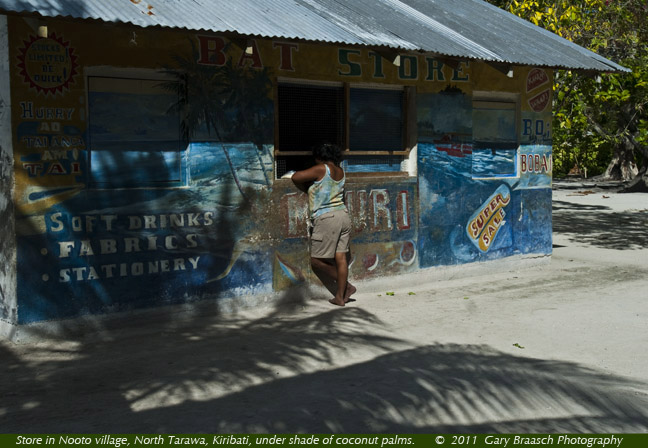 The Bat Store, largest of the merchants in Nooto village, North Tarawa, partly in the shade of the ever-present coconut palms.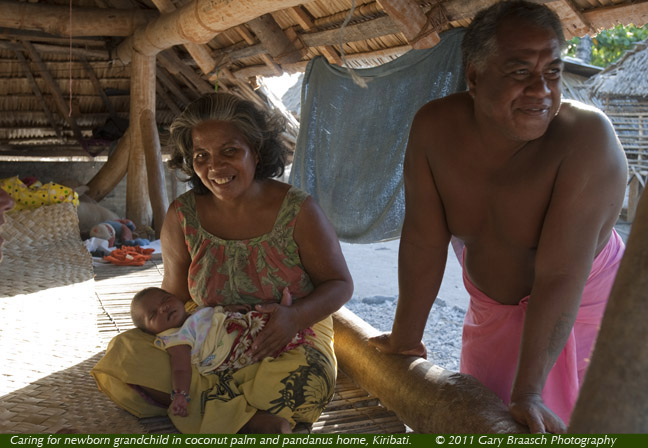 Kaewenako Kiriata (l) and Kiriata Roniti, grandparents of two-week-old Arauea at their home in Nooto village, North Tarawa. This open structure, made of local coconut palm and pandanus wood and thatch, with a floor covered in beautifully woven pandanus mats, is a fine example of local craftsmanship and skillful use of island materials.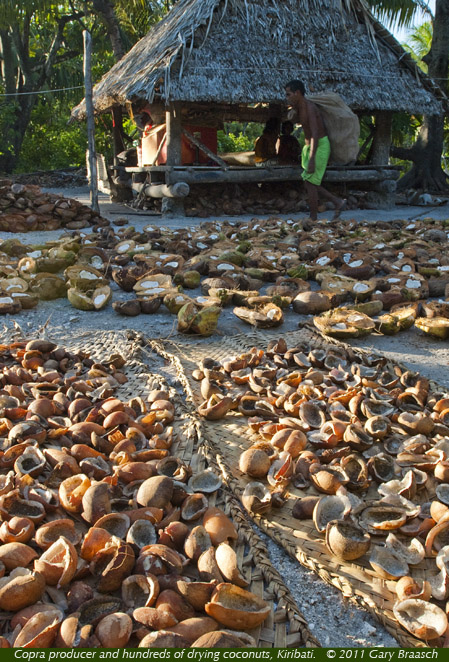 Copra dealer carries a bag of husks around the array of coconuts which he opened and laid out to dry in his yard in Nooto village, North Tarawa. He pays local kids and youth to gather the fallen coconuts, and after several days of drying prepares the meat for purchase by an agent of a copra company in South Tarawa.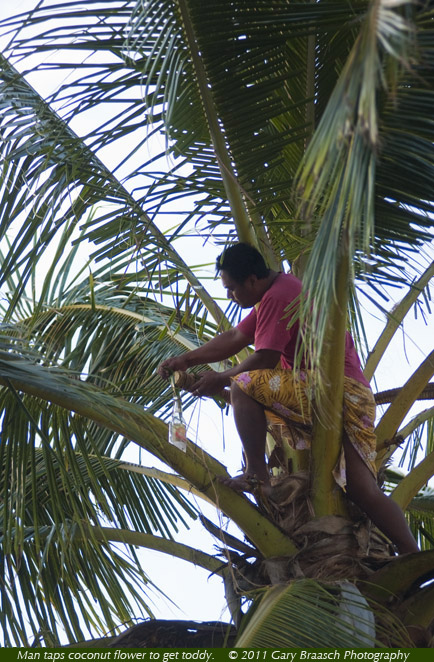 The coconut palm is not only used for its nuts, fronds, and trunk, but also as a source of sweet liquid called toddy which men collect from the flowers. The multiple flower stems are cut and wrapped tightly with string and a bottle hung beneath to catch the nectar drip by drip, often using old soy sauce bottles. The toddy is drunk both straight and as a fermented liquor.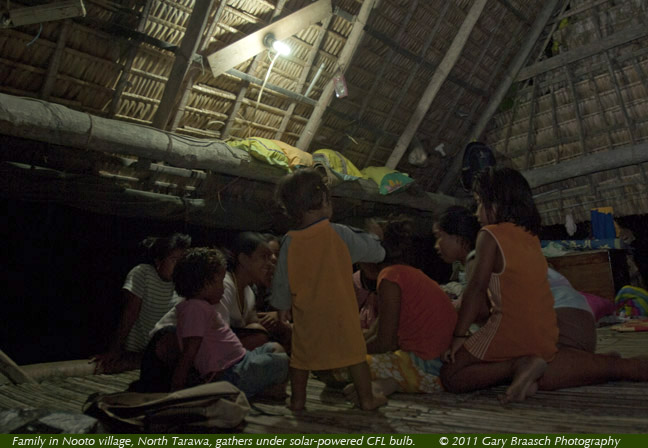 A family gathers on the pandanus mats of their home under a single CFL low-voltage bulb powered from a car battery recharged by a solar panel during the day. Government programs provide the power set-up for a monthly fee, helping families avoid the pollution, noise and cost of a generator (more on this at World View of Global Warming).
Most of the roads on North Tarawa are graded gravel and sand, weaving among the palm trees from village to village -- as in this dusk motion image. Transport is provided by a few trucks, cars and motorbikes.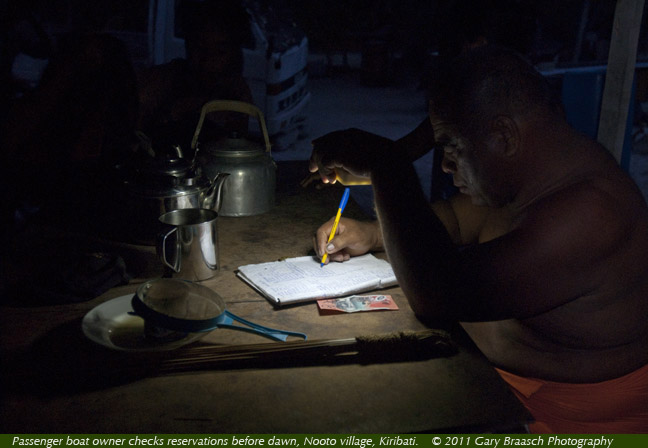 Owner of one of the transport boats studies the names of those who want to go to Bairiki, South Tarawa, on a trip beginning at dawn from Nooto village. The boats are large canoes with and without cabins, powered by an outboard for the one hour trip south across the lagoon. About 30 people made the trip this morning.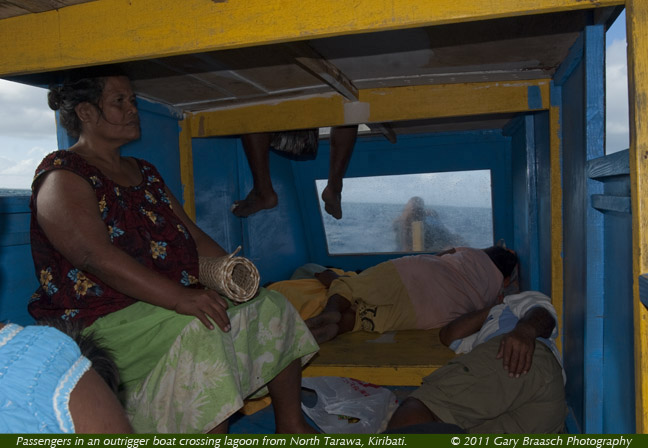 Inside the simply-made cabin on the outrigger boat from North to South Tarawa, a woman is deep in thought while others sleep. Outside two men sit -- one with legs dangling down the roof hatch and the other on the bow, visible through the plexiglass window. The journey takes about an hour.