Gary Braasch Environmental Photography
Post Office Box 1465
Portland Oregon 97207 USA
email: gary@braaschphotography.com
Phone 503.860.1228
Skype: ClimateGary
Gary Braasch is one of the most experienced editorial and documentary assignment photographers for natural history, science, and travel. His repeat clients include Life, Smithsonian, Natural History, Discover, Audubon, NY Times Magazine, the UN, and news websites like The Daily Climate. He successfully completed a long term project on climate change in 22 nations on all continents, resulting in the book Earth Under Fire, published by University of California Press. This project continues with travel to 8 additional nations on assignment for news websites, foundations, international NGOs and the United Nations. Please call or email about your assignment needs, including reporting and writing -- Gary's documentary photography springs from an MS in Journalism from Northwestern University and early work for news agencies..
MOST RECENT ASSIGNMENT:
Three trips to Alaska plus work documenting the public protest against Shell Oil's Arctic drilling scheme, June-September 2015, for Alaska Wilderness League. Travel to Unalaska, Wainwright, Fairbanks, and Kotzebue. Initiative taken during the assignment, based on background in Alaska nature and a deep "rolodex" of contacts, resulted in exclusive photographs of the latest in a string of unnatural walrus haul outs on Alaska beaches when the sea mammals should be out on summer sea ice. The loss of sea ice and Shell's presence in walrus habitat while President Obama was preparing to visit Alaska resulted in a news story covered by Washington Post, CBS Evening News, ABC News, Mashable, The Daily Climate and hundreds of reposts.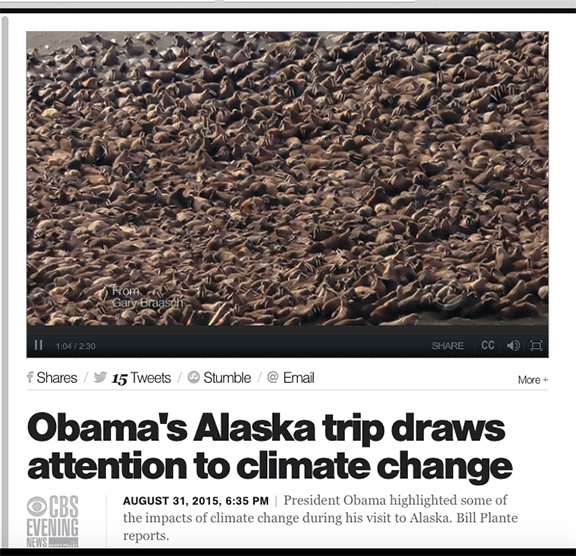 http://www.worldviewofglobalwarming.org
Month-long excursions were undertaken to Europe and Peru to document climate science, recent changes in glaciers and forests, and the landscape of new energy in 2014. These trips were funded by and coordinated with major donors to World View of Global Warming specifically to show rapid changes since Gary first photographed in these locations 10 and 15 years ago. Along with images of great loss of ice in the Alps, one result was a documentation of a Peruvian glacier that has completely disappeared, part of a photo story on Peru which coincided with the 2014 international climate negotiations in Lima.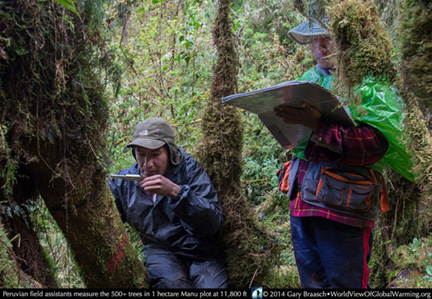 The new energy landscape of the American West, including stories on the coal center Powder River Basin, Wyoming, on assignment for The Daily Climate and also published by Scientific American.com in 2013. More stories to come on oil and renewable developments from Texas through Colorado and up to North Dakota.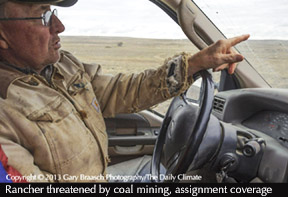 The images produced in all the assignments shown on this page are still available as stock photography and photo stories -- a visually powerful and still-timely resource for all media. LIFE Magazine Special Editions are a frequent client, as in two issues in 2013.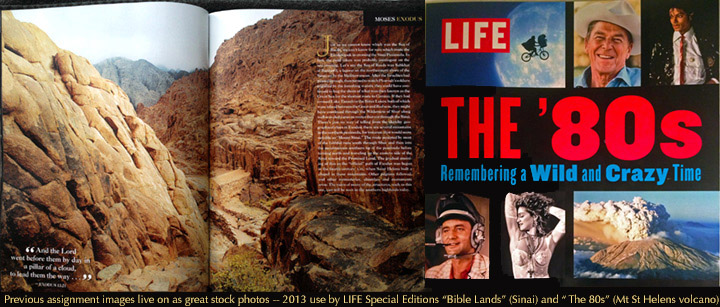 Report on the drought baking much of the United States, images and information from the corn belt of Iowa, Nebraska, Missouri and Kansas for World View of Global Warming, summer 2012.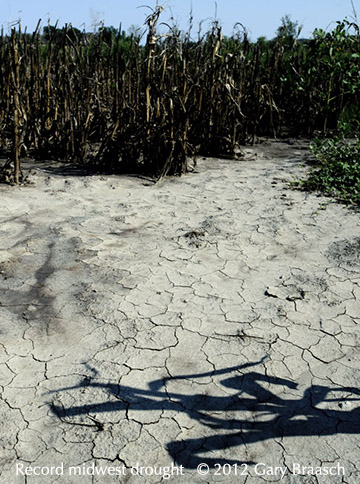 Extensive assignment work in Alaska in 2012 resulted in reporting on climate science, change and energy, with an ultimate audience for the photos and stories of millions of US readers plus the internet. This work covered major news stories in the Arctic: Witness to the lowest summer extent of Arctic sea ice and exclusive photographs of Shell Oil's drill rig Kulluk on site just offshore of the Arctic Refuge. This work took Gary from Barrow and the Arctic Ocean to the Mendenhall Glacier and Glacier Bay in SE Alaska, for Alaska Wilderness League and World View of Global Warming. Resulting photos ran in the NY Times Magazine (print circulation almost 4 million) and The Daily Climate; others became a photo story about Arctic science and images for the website's climate science information and image library pages.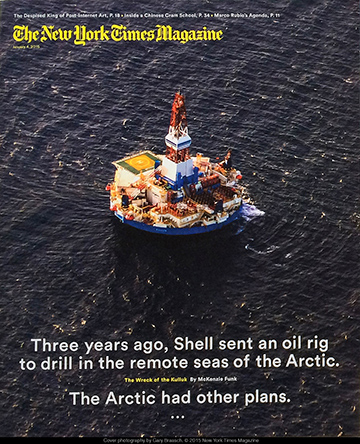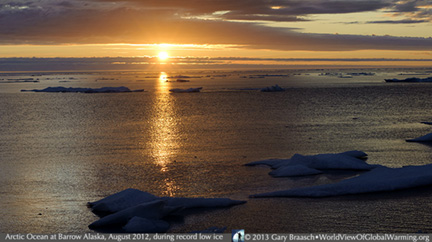 Month-long travel in northern India and Nepal in 2012 for the Karuna Foundation - US to report on climate change and how people of the Himalayas are reacting to its threats and uncertainties. Water, agriculture, weather disasters, urban issues, and culture in an on-going series of portfolios and photo stories.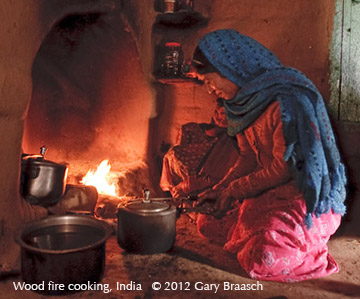 Month-long travel in northern India and Nepal in March 2012 was followed by a second month of assignments in the fall for the Karuna Foundation - US. Mission: to report on climate change and how people of the Himalayas are reacting to its threats and uncertainties, and provide research to the foundation. Images also published by World Wildlife Fund and used widely on NGO and climate websites. Water, agriculture, weather disasters, urban issues, and culture became an on-going series of portfolios and photo stories — including the crucial issue of indoor cookstove pollution, a health issue for 3 billion people.
North Carolina Outer Banks October 2011 for NC Museum of Natural Sciences and World View of Global Warming, continuing repeat location photography of sea level rise, beach erosion and loss of houses on Cape Hatteras.

Two-month journey in 2011 with specific repeat and documentary locations for World View of Global Warming, in Tuvalu, Kiribati, Fiji and Hawaii.
More pictures of Kiribati here.
Images in use by museums and websites.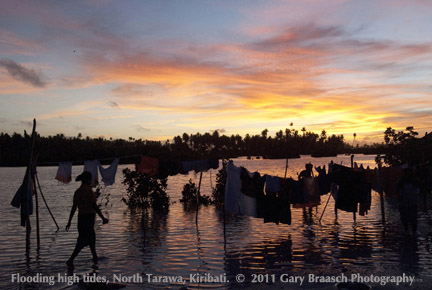 The BP Gulf oil disaster, May-August 2010, an assignment for an environmental foundation, a national magazine and World View of Global Warming for long term coverage and implications of this huge environmental, scientific and human event. Aerial photography, photojournalism, portraits of people involved, and the details of the response to the oil spill. Please see portfolios beginning here.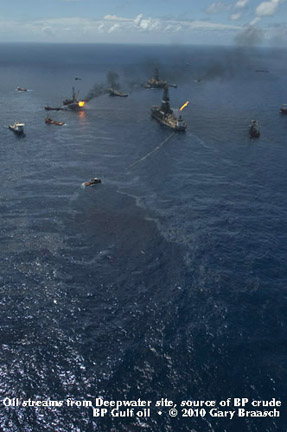 A sampling of recent assignments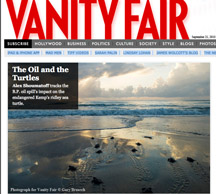 Wide ranging assignment for Vanity Fair, July 2010, with famous environmental writer Alex Shoumatoff, to follow the most endangered sea turtle whose habitat was slathered by the BP crude oil. Images of the hatching of the Kemp's ridley turtles in Mexico, rescue and veterinarian care of young turtles found in the oil spill, and the moving of entire nests of turtle eggs from beaches near the oil. Portfolio here.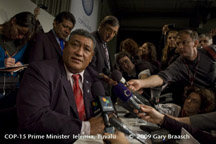 Copenhagen COP-15 international climate talks, an assignment for photos and text for World View of Global Warming and the Yale Forum on Climate Change and the Press, including coverage of how the media covered this important meeting.

Hoh River, Washington. Three day assignment for Western Rivers Conservancy, 2009, to document 10 land purchases along this wild river, a major salmon stream, as it flows out from Olympic National Park to the Pacific Ocean.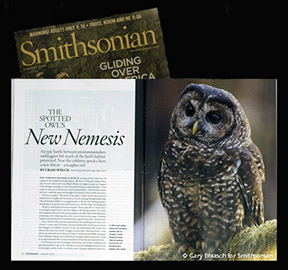 Threatened spotted owls. Endangered species and field science in the Western forests, three day assignment for Smithsonian magazine, published January 2009.
Photo also used as the Smithsonian Magazine Holiday card, December 2009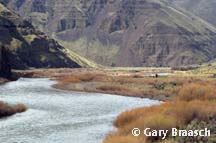 John Day River, Oregon, landscape and wildlife photography assignment for Western Rivers Conservancy, 2008. Use in brochures and for fundraising.

Lake Mead, Arizona, and Hoover Dam as level of lake drops in drought. Photograph for Norton Publishing and GHG Photos used as chapter opener in new climate book, 2009.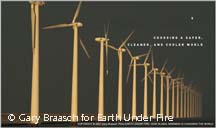 Extensive travel 2004-5 with specific targets in Europe, the Arctic, China, and Asia for World View of Global Warming and the book Earth Under Fire: How Global Warming is Changing the World. Here wind turbines in The Netherlands used as chapter opener.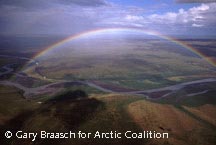 Assignments for aerial and landscape photography on Alaska's Northwest slope for Arctic Coalition and Alaska Wilderness League, 2003-5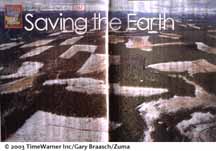 Time Magazine, Canadian Edition, November 24, 2003 "Saving the Earth" double-truck, image picked up from previous assignment for Foundation for Deep Ecology.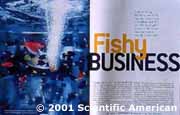 Scientific American "Fishy Business" (Coral reefs & aquarium fish) July 2001
Life Magazine "Coming Back to Life" (Mount St. Helens volcano recovery) May 2000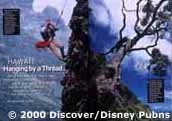 Discover Magazine "Hanging by a Thread" (Hawaii endangered species) February 2000

Audubon Magazine "All things great and even microscopic" (Bio diversity, Great Smoky Mountains) May-June 2000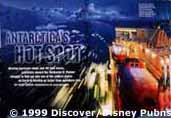 Discover Magazine "Antarctica's Hot Spot"
(Climate change) November 1999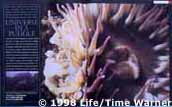 Life Magazine "Universe in a Puddle" (Tide pool ecology) April 1998
Audubon Magazine "The Oil Pressure Rises" (Alaska tundra) November 1997