News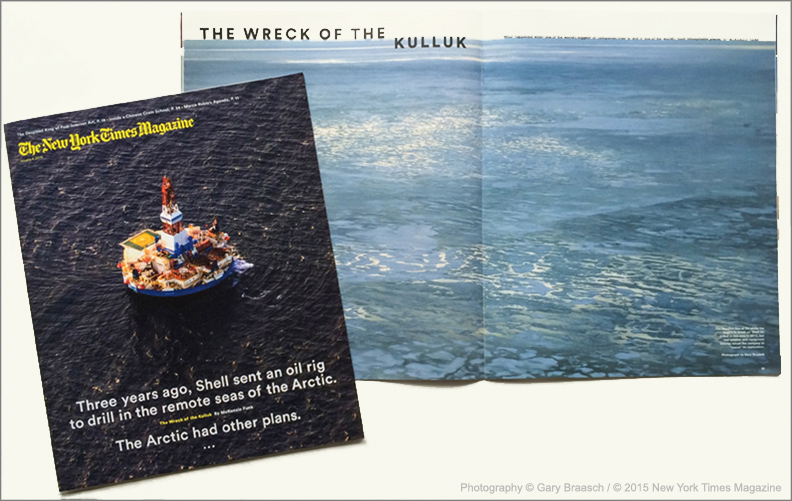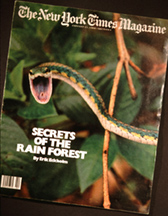 The Sunday NY Times Magazine published Gary's images of the ill-fated Shell oil drilling rig Kulluk and a spread of Arctic Ocean ice off Alaska for their 4 January 2015 cover story "The Wreck of the Kulluk." See more photos from the aerial shoot of the oil rig on World View of Global Warming. Thanks to photo editor Amy Kellner and the Director of Photography Kathy Ryan. Kathy and Gary collaborated once before for a cover about tropical forest exploration and ecology.

The Boston Museum of Science, one of the premier science museums in the world, displayed Gary Braasch's photography exhibition "Climate Change in Our World," for display from June 2013 into January 2014. The display of 40x60 inch prints included a 40 inch digital screen presentation of 100 images from World View of Global Warming 1999-2013. This exhibit was inspiration for a new 32-image exhibition now on display in Europe.
Al Gore praises Gary Braasch's book Earth Under Fire:
"The power of Gary Braasch's personal witness to the climate crisis makes this essential reading for every citizen."
Chosen for Vanity Fair's "Top 50" environmental books and DVDs.
"I think that these pictures" of climate change "will someday be the iconic images of our decade." -- Bill McKibben
Awards
Gary Braasch was named one of the Forty Most Influential Nature Photographers by Outdoor Photography magazine, London, in December 2010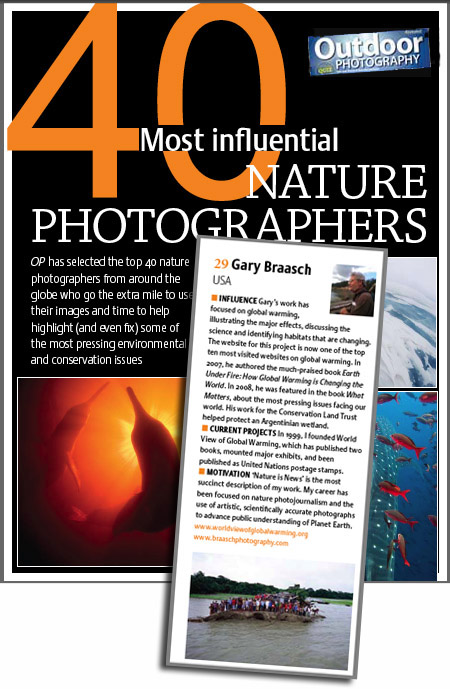 • Ansel Adams Award for Conservation Photography
• Children's climate book named Best Middle Grade Science Book of 2009 by the American Association for the Advancement of Science
• Gary Braasch is a Nikon Legend Behind the Lens photographer.
• Gary Braasch is a Fellow and Board Member of the International League of Conservation Photographers
• Photographs selected by Communication Arts and the Permanent Design Collection, Library of Congress.
---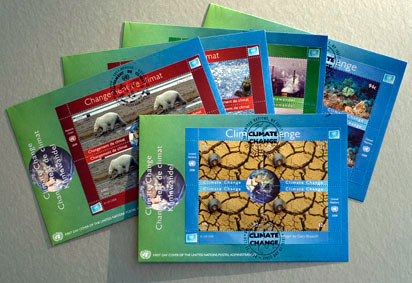 The United Nations issued an international postage stamp set and informational booklet about global warming, exclusively using photographs from Gary Braasch's book Earth Under Fire and his climate documentary project World View of Global Warming. The publication, on October 23, 2008, was part of the UN's "Year of Planet Earth" environmental focus.
United Nations stamps are created by artists from around the world, but only rarely has a single photographer contributed all the images for the stamps and the informational booklet that accompanies them – in this case 30 photographs in all. For more information, please visit this page.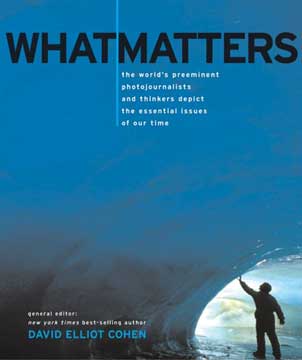 Gary Braasch's iconic ice cave image was chosen
as cover of a new book about the world's greatest challenges, from one of the creators of "A Day in the Life..." books. Gary's global warming work shares these beautifully printed pages with the photojournalism of James Nachtwey, Gerd Ludwig, Paul Fusco, Ed Kashi, Sebastiao Salgado and others. For a look at this work, please visit the What Matters website. What Matters blog.
---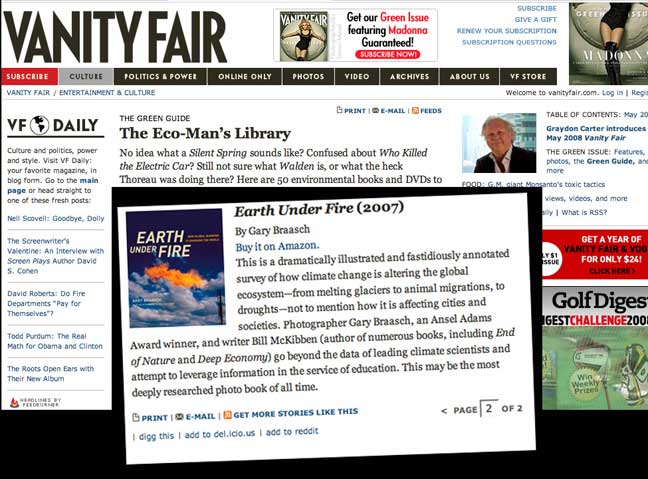 Earth Under Fire (2007)
By Gary Braasch
This is a dramatically illustrated and fastidiously annotated survey of how climate change is altering the global ecosystem-from melting glaciers to animal migrations, to droughts-not to mention how it is affecting cities and societies. Photographer Gary Braasch, an Ansel Adams Award winner, and writer Bill McKibben (author of numerous books, including End of Nature and Deep Economy) go beyond the data of leading climate scientists and attempt to leverage information in the service of education. This may be the most deeply researched photo book of all time.
--Adam Spangler, Editor, Vanity Fair Green Guide
Gary was honored as a Nikon Legend in May 2006. He became one of only a handful of nature and wildlife photographers to be selected for the list of 65 world famous image-makers in fields from photojournalism to fashion. Those featured previously range from Eddie Adams through Jay Maisel to Vincent Versace. The Legends home page is on the Nikonnet Web site (http://www.nikonnet.com/dyn/inspire/legends_index.html)

Gary's environmental photos stories are now represented internationally by Zuma Press, of Los Angeles, along with a fresh selection of stock images of nature, environment and travel. Please call them at 949.494.7704. Nature photos will be available through Peter Arnold this year, via www.peterarnold.com. Images from Gary's entire career continue to be seen in the Corbis collection, and selected photographs on GettyImages.