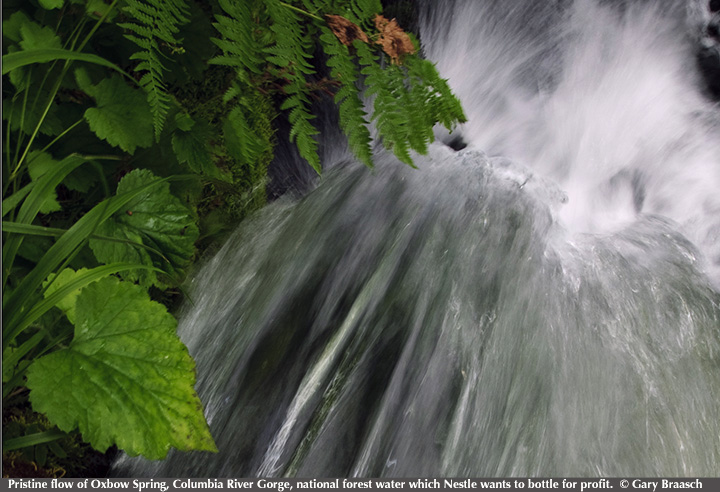 Happy Spring (here in the Northern Hemisphere) from Braasch Photography. The melting snow of the Cascades is in full flow down into the Columbia River Gorge's waterfalls and springs. There is often controversy and conflict over water use, and in Oregon now there's a fight to protect this spring from being appropriated by Nestle for bottled drinking water. More information here. • June 5 is World Environment Day hosted in North America by Portland Oregon, for which Gary Braasch is on the steering committee. • In June he teaches for his 17th year at the Maine Media Workshops, focusing on nature and environmental issues in "Photography for the Environmentalist." There is much more about this workshop here, with photos of shooting locations and Gary's own visions of Maine. • Below, another vision of water -- a thunderstorm-spawned rainbow over eastern Colorado.

Photography is now available of climate and wildlife science from the North Slope of Alaska. Here, three black guillemot seabirds socialize during nesting season along the Arctic Ocean near Barrow, site of Dr. George Divoky's unique field research. His discoveries of the effect of loss of sea ice on an Arctic ecosystem is documented now in a photo-article on World View of Global Warming. Other new work from Alaska includes the Arctic National Wildlife Refuge, climate science on the tundra, small native towns of Barrow and Kaktovik, Prudhoe Bay, the ill-fated Shell Oil drilling plan and glacier changes.
Rice is every where in rural Nepal in November as the paddy crop which ripened after the monsoon is cut in the fields, threshed by hand, and spread out on village squares, rooftops and any open space to dry in the autumn sun. Women winnow and sack the rice for sale or distribution to their families and villages. Another reminder that we reap what we sow and the chaff must be blown away from the valuable grain -- as we in the U.S. get on with the important issues facing us now that the President has been reelected. Gary Braasch has reports from his journeys in the Himalaya about climate, glaciers and now Bhutan, on World View of Global Warming.
---

For more time series visualizations of how climate change is altering the face of the earth right now, try the new App for the iPad and the iPhone -- Painting With Time: Climate Change. Created by Red Hill Studios and World View of Global Warming, and available now at your Apple App Store -- where it is "What's Hot" in the Weather section. With a sweep of your finger, see glaciers melt, sea ice disappear, coasts erode, reservoirs dry up, and world temperatures soar, along with information about the science of climate change from leading researchers. For more information, please see the App developer's facebook page.
---
Gary Braasch is a leading environmental photojournalist who creates remarkable images and reports about nature, environment, biodiversity and global warming around the world. More...